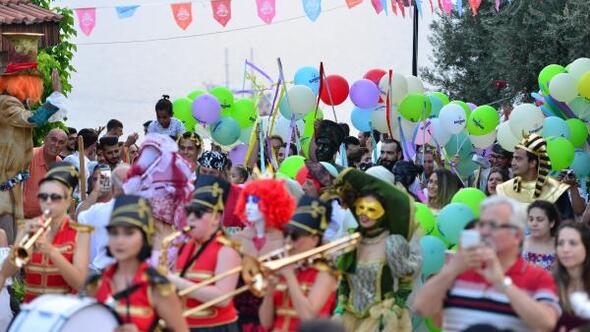 ANTALYA, (DHA) - MURATPAŞA Municipality's 3rd Kaleiçi Old Town Festival starts tomorrow with the participation of 26 cities in 14 countries.
The Kaleiçi Old Town Festival, which Muratpaşa Municipality will hold for the third time this year, starts on Thursday, October 11. 26 cities from 14 countries are participating in the festival, where Russia will participate as a guest of honor. The festival is the city of history and art from Italy, Gradara and Sicily, Bethlehem from Palestine, Gabrovo and Smolyan of Bulgaria, Mamusha and Mitrovica, a Turkish settlement in Kosovo, Silute of Lithuania, Zigetvar of Hungary, TRNC. The cities of Kyrenia, Pakistan, Karachi, Azerbaijan, Binagadi, Khatai, Sabunchu, Nizami, Mingechevir, Narimanov, Austria's Purbach and Neusiedler will participate. The festival is the guest of honor, Russia is from Rostov, St. Petersburg. It will host the cities of St. Petersburg and Kazan.
Sax, who will attend the festival from Spain with Alagon, will bring a very special guest to Antalya. Los Turcos, the biggest group of the traditionally organized 'Moros y Cristianos' festival in Sax in the Valencia region, and also a private mehteran team, the head of the Turks group, Francisco Sanchez Chico, will be at the festival with Mayor Juan Jose Alberto Herrero Rico. Drogheda from Ireland, who placed a star to present her gratitude to the help of the Ottoman Sultan Abdulmecid during the great famine in the city's football team and the city emblem, will attend the festival with a delegation, including Mayor Frank Godfrey.
EVENT POINTS
This year at the 3rd Kaleiçi Old Town Festival, Antalya Culture and Arts (AKS) Kaleiçi House, exhibitions and performances under the title 'We Have a House in Kaleiçi', Hadrianus Gate, Kesik Minaret, Hıdırlık Tower, Eski Balık Pazarı Meydani, Yacht Harbor , Attalos Statue and Single Door Inn front will host street performances and animation shows to be held under the title 'There is Life in Kaleiçi'. The mirador of Karaailioğlu Park, which opens to Hıdırlık Tower, will be the venue of the 'Starry Nights' concerts to be held every evening during the festival. Koç University Suna & İnan Kıraç Kaleiçi Museum and Simitçi Mıstık Art Gallery will be the other event points of the festival.
LIMITED QUOTA
Antalya Maturation Institute will organize a kitchen workshop on Turkish and Russian food culture at the festival. On Friday, at 13.00, the workshop will be held at the Institute's Kaleiçi, and pelmeni known as the ravioli and Russian ravioli will be prepared. It is possible to register to the workshop, which has a limited number of places, by calling 247 03 51. Another event limited to the quota will be held at Koç University Suna & İnan Kıraç Kaleiçi Museum with the title 'Kaleiçi Classic'. On the piano, Natalia Brazhnikova, classical music concert, which will be held in violin by Dmitry Khakhamov and in cooperation with the Russian Consulate General in Antalya, will start on Saturday, October 13 at 16:00. For participation, it is necessary to register on 243 42 74.
IN THE TABLE
Mayor of Muratpaşa Ümit Uysal said that Kaleiçi has a unique story in the world where an uninterrupted life has been going on since the 4th century BC. Stating that they are trying to make this epic world of Kaleiçi part of the world heritage with Kaleiçi Old Town Festival, President Uysal said:
"The festival, which we organize by becoming more institutionalized every year, has entered its third year. Our festival, which will start tomorrow at 18.30 from Karaalioğlu Park to Atatürk Caddesi - Hadrianus Gate and Kaleiçi, will continue with concerts, exhibitions, street performances, talks, kitchen workshops for 4 days. I invite our neighbors living in Antalya and our guests enjoying the autumn sun to the Kaleiçi fairy tale. "
https://www.google.com.tr/amp/www.hurriyet.com.tr/amp/yerel-haberler/antalya/kaleici-old-town-festivali-basliyor-40982214