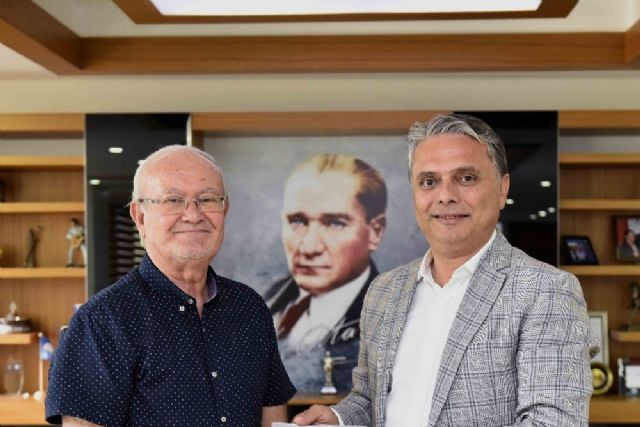 Kepez Municipality 10-13 October in will organize Kaleici Old Town Festival "If I were a resident in Kaleiçi'nde" will be a speaker in the interview entitled Local Products and Geographical Indications Turkey Research Network (YÜCİT a) Executive Board Chairman Prof. Dr. Yavuz Tekelioğlu visited Mayor Ümit Uysal in his office.
Kaleiçi Old Town Festival, which will be organized by Muratpaşa Municipality on October 10-13, will be held every night in Karaailoğlu Park, as well as 'Miradorda Starry Nights' concerts, exhibitions and works that make the streets and squares of Kaleiçi a part of experimental art works. and the street performances and animation shows that will be organized under the name "There is Life in Kaleiçi".
Historic Three Doors, Hıdırlık Tower, old Fish Market Square, historical Kaleiçi Yacht Harbor, Castle Gate, Tek Kapılı Han, home to colorful and exciting street performances and shows from Thursday to Sunday between 18.00 â € "20.00 In the open air art space exhibitions curated by Dr. Ebru Nalan Sülün and attended by many artists from theater to music, different works will be carried out in the ancient city of Kaleiçi, which is suitable for the spirit of the street and aims to mobilize the public space with art.
Mixed watercolor painting exhibition curated by Olcay Okutan 'Colors of Kaleiçi', Assoc. Dr. Curated by Terlan Mehdiyeva Azizzade, 'Kaleiçi was beautiful with you Muittin Selamet', Aykut Şener's woodwork exhibition will also meet the art lover within the scope of the festival.
An interview titled "If I live in Kaleiçi" at the festival, where different interviews will be held, Prof. YÜCİTA Chairman of the Executive Board. Dr. It will be held with the participation of Yavuz Tekelioğlu and ceramic artist Sadettin Savaş. The conversation to be held at Simitçi Mıstık Gallery, which is located on Hesapçı Street, known as the 'King Road' of Kaleiçi and which was reorganized as an art gallery, will be held on Saturday, October 12.
Professor of this conversation. Dr. Tekelioğlu visited President Uysal in his office days before the festival. Professor Dr. Tekelioğlu shared his views and thoughts about Kaleiçi with President Uysal while giving information about the work of YÜCİTA, which he was the president of.
https://m.timeturk.com/kaleici-ni-ve-yoresel-urunleri-konustular/haber-1231226
https://www.iha.com.tr/antalya-haberleri/kaleicini-ve-yoresel-urunleri-konustular-2415767/